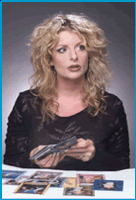 Helene specializes in relationship readings although she reads on all areas and is considered to be one of the most accurate, warmest and best "relationship readers" in the country. Helene does not do general readings, and reads for those who have specific issues they would like to discuss. All readings are done on the phone with the exceptions of private events and media. Helene is not a therapist or a counselor and works clairvoyantly, clairaudiently, claircoznizantly and clairsciently and mega intuitively in her work.




To Schedule a Session:
Email , Text or Call 770-655-5215

It is mandatory to leave a call-back number on all inquiries, as Helene makes all appointments personally by phone.

30 Minutes- $100
45 Minutes- $155
60 Minutes- $185
90 Minutes- $275

MANDATORY PLEASE READ



CALL BACKS- It is required to leave a call back number on all inquiries in order to schedule your appointment. No appointments will be scheduled without this.

PRIVATE PHONE READINGS- All private sessions are by appointment only, Monday-Friday 11:00 AM - 9:00 PM EST. Weekend appointments available with notice.

PAYMENT– Sessions are held and preapproved by Visa, MC, and Discover. Helene books all appointments personally over the phone and takes your information individually at that point.

CONFIRMATION- You will receive a confirmation after booking your session that will explain how to proceed and what to expect from your reading.

PREPARATION- Mandatory: Take at least 10-15 minutes to write down well and specific thought questions. If you haven't done this, you are not prepared for your session.

REFUNDS/CANCELLATIONS- We regret there are no longer any refunds but rescheduling can be discussed with enough notice in the event of an emergency. Any no-shows will be billed in its entirety.

TAPING- We apologize that taping is not available at this time, but will be soon. Most clients take concise notes.

SCHEDULING: Please Go to Scheduling And Billing Page Or Call/Text- 770-655-5215- It is mandatory to leave a contact number and a message on all inquiries or a return message cannot be guaranteed.



Contact Helene For Out of Town Events.


Call or Text and leave a message at: 770-655-5215 Helene@TheReadersGroup.com




IMPORTANT: PLEASE READ
Disclaimer/Cancellation/Rescheduling Policy
Because The Readers Group no longer offers a cancellation or refund policy, a Credit Card number will be required at time of booking and you will be billed the day your appointment is made in order to hold your space. Any no shows (for private readings) without prior notice will result in your Credit Card being billed in its entirety and your session might not be rescheduled. There are no exceptions to these rules.
© 2001-2002 THE READERS GROUP. ALL RIGHTS RESERVED. ANY REPRODUCTION IS STRICTLY FORBIDDEN.